English Speaking Proficiency Assessment
All students for whom English is not a first language (as self-reported on their admissions application) and who have first-time appointments as graduate teaching assistants (TAs) are required to take a test to assess their effectiveness in speaking English before they are assigned assistantship responsibilities.
The English Speaking Proficiency Assessment (ESPA) is a test that assesses these students' oral language and listening skills. To take the test, students must be enrolled in a graduate program at The University of Iowa, and an academic department must be considering hiring them as teaching assistants.
Who needs to take the ESPA?
Any graduate student who is included in the following categories needs to have their oral English proficiency tested by the TAPE Program:
Students whose first language is not English (i.e. learned another language first) as self-reported on their admissions application, and
Have been appointed as a Teaching Assistant
Exemptions:
Students with an official valid (within the last two years) iBT Listening score of 25 and an iBT Speaking score of 26
Students who obtained degrees at institutions in which the language of instruction was English. This includes:     

Undergraduate degrees and/or     
Continuous attendance of English-language schools since the age of 12 (or younger)

Students who served as teaching assistants at other institutions of higher learning in which the language of instruction is English, provided that they were listed as the instructor of record for a course or led a discussion section in English for at least one year, with a year defined as either two academic semesters or three academic quarters.
Requests for exceptions regarding the ESPA can be submitted for evaluation to a committee consisting of the Director of ESL Programs, the Associate Dean for Administrative Affairs in the Graduate College, and a representative from University Human Resources.
Requests for exemption and exceptions must come from the department by the deadline, not the student.   Deadlines to register students for the ESPA and ELPT are:
August 1
October 1
January 1
March 1  
NOT Exemptions:
Students who come from a country where English is one of the official languages
Students who are U.S. permanent residents or U.S. citizens whose first language is not English
If you are unsure if someone needs to take the English Speaking Proficiency Assessment (ESPA), please contact the ESL Programs Office (esl-program@uiowa.edu).
Testing Procedures
All students to be tested must first register for the ESPA test through their departments. When a department offers (or is thinking about offering) a teaching assistantship to a student who has never before been a TA at the University, the department submits an online Request for Evaluation form via the Self-Service page (Administration → Forms → ESL TA Certification). The ESL Office sends the student (via the department) a letter indicating the time and place of the appropriate ESPA testing. This letter is e-mailed to departments to distribute to students.
Students: This letter informs you that you need to officially register for the ESPA. You will be told to come to 1112 University Capitol Centre the day before your scheduled ESPA to register for a specific test time.  If you have additional questions about registering or preparing for the ESPA, please contact the ESL Programs office at any time.
Your answers for the ESPA will be recorded in the audio classroom (17 Phillips Hall) of the Center for Language and Culture Learning (CLCL).  Your performance on the test will be evaluated by at least two ESL faculty raters using the SPEAK Band Descriptor Chart.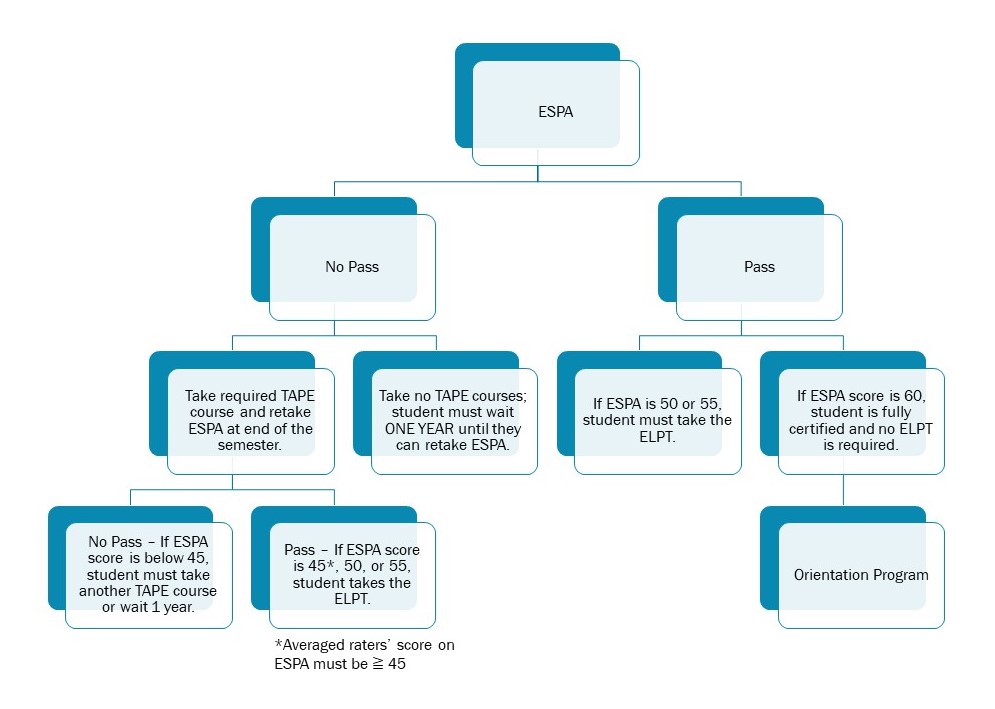 When you take the ESPA test, you will be told when to come to the ESL Programs Office to check your results and find out if you have attained a passing ESPA score of 50 or higher (or 45 or higher for TAs who will be teaching foreign language courses or an averaged score greater than 45 for students currently enrolled in a TAPE course) and if you are therefore eligible to take the ELPT (English Language Performance Test). Students with passing scores must then sign up to take the ELPT. At registration for the ELPT, each examinee is given detailed instructions on how to prepare for the test. The ELPT is given on the day after students receive their ESPA results. Students who score 60 on the ESPA are not required to take the ELPT (see Certification).  
It is important for all students to check their results by the assigned day and time.  Students who are eligible for the ELPT and do not sign up by the deadline must wait until the next test date. 
For more details about the ESPA, watch this eight-minute video.  (Download the video transcript.)  You can also look at this practice ESPA.
ESPA Results
Results for ESPA tests given at the beginning of a semester (January and August) are available within two days. Results for ESPA tests given during the middle of a semester (March and October) are available one day prior to administration of the ELPT, (about 3 weeks) after the ESPA.  Students are sent feedback forms through their departments within a few days of taking that test.
Students can also make an appointment with the ESL Programs office to receive more individual feedback after the ESPA and the ELPT.