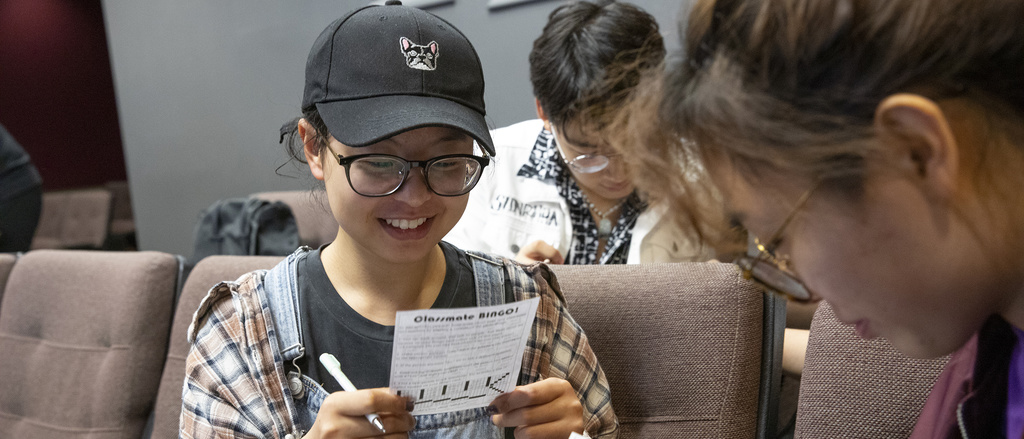 The Iowa Intensive English Program is located on the campus of the University of Iowa in Iowa City, Iowa.
Take the University of Iowa Virtual Tour
Iowa City, a community of 62,000, is located in east-central Iowa. The smaller sizes of Iowa City and the neighboring city of Coralville (85,000 people) make them great places to live and study. Iowa City is within a four- to six-hour drive of several major U.S. cities (Chicago, Minneapolis, St. Louis, and Kansas City), so students can visit them over the weekends or holidays.
Iowa City has a diverse, cultured, and educated population comprising people of all ages from all over the world. Because The University of Iowa attracts many international students, there are plenty of multi-cultural restaurants, grocery stores, student groups, artistic events, and religious organizations and places of worship. Residents enjoy a high quality of life and a relatively low cost of living.
Housing
If you have not already found housing, we recommend arriving early so that you have sufficient time to find a place to live. The IIEP does not find housing for students.
You can live in a University of Iowa residence hall (dormitory) or in an apartment off-campus. If you want to stay in a dormitory, visit the Housing Office website. Send your housing application with the deposit as soon as possible to the University Housing Office at the address on the application. The IIEP cannot guarantee a place on campus to any applicant. If you have applied for a residence hall room, contact the Housing Assignment Office, located in Burge Hall, at 319-335-3009 as soon as you arrive. If you have applied for a residence hall room and have not heard from the Housing Office before you leave home, you can call them at the number above or e-mail them at housing@uiowa.edu.
Please note: if you are approved for campus housing, you will sign a contract for one academic year. (If you leave the U.S. after one or two semesters, you will not be required to pay for the rest of the year. However, if you sign a housing contract in the fall and you stay at the University during the spring, you will have to pay for the dormitory whether or not you utilize it.)
If you choose to live off-campus, in a room or apartment, please arrive early to find a place. Single rooms generally cost at least $500 per month. A small apartment will usually cost at least $600 per month, and an apartment suitable for a family will cost at least $700. Utilities (water, heating, gas, electricity, internet) are not always included in the price of the apartment and can cost over $100 per month during the winter.
Transportation
Most students come to Iowa City by air. The airport serving Iowa City is located near the city of Cedar Rapids, about 20 miles from Iowa City. It is called the Eastern Iowa Airport. Your travel agent or airline office can give you information about the best route to follow to fly to Cedar Rapids. If you arrive in the United States and go through U.S. customs in Chicago, you will arrive at terminal 5 (terminal for all international flights).
See also: What a student can expect upon arrival at a U.S. port of entry
There are several companies who provide transportation from the Eastern Iowa Airport in Cedar Rapids to Iowa City. Currently, the cost for a one-way trip is approximately $50. You can guarantee transportation by making an advance reservation. Follow this link for more information.
If you have not made any arrangements for a place to stay prior to your arrival, you should ask the driver to take you to the Iowa House Hotel (located in the Iowa Memorial Union, on the UI campus). You can stay there for a few nights until you find a place to live. Please tell the clerk at the desk that you are a student in the Iowa Intensive English Program (IIEP) so you will pay the student rate (about $65 per night for a shared room). To ensure a reservation with the Iowa House Hotel, you should call them at 319-335-3513 or book a room online.
There is bus service Monday through Saturday within Iowa City and nearby Coralville areas. The cost is one dollar ($1) one way. Monthly bus passes are also available to students for purchase. The University of Iowa also operates a free campus bus system called CAMBUS.
Health Insurance
Because the cost of medical services in the United States is extremely high and there is no national health insurance system, all international students at The University of Iowa are required to have health and accident insurance.
The University of Iowa offers a general student health insurance plan at a moderate cost to students (there is also a plan available for married students with families). The UI Student Health Insurance Plan (SHIP) rates can be found on the University Human Resources website.  Students are strongly encouraged to purchase this insurance, since it covers more of the services necessary for international students.
If you bring your own insurance from home, your health insurance policy MUST contain the following information:
Your name
Beginning and ending dates of coverage
EXCLUSIONS (health services your policy does not cover)
Hospitalization
The insurance must be non-cancelable and fully paid for a minimum period of 2 semester (monthly payment plans will not be accepted).
The insurance must be renewable for continuous coverage.  Conditions covered under the initial policy must not constitute a pre-existing condition under the renewal policy.
Immunization Information
When you receive your I-20, you will also receive an "Immunization Form for International Students." This form describes required and recommended immunizations and tests. The IIEP strongly encourages you to take the form to your doctor and meet the requirements in your home country, where health services are generally less expensive than they are in the United States. The University currently requires all international students to have two measles immunizations. International students are required to be screened for tuberculosis (TB). This screening must be done in Iowa. A BCG vaccination should not be given prior to your departure. Vaccinations for hepatitis-B and meningitis are also highly recommended.
Student Employment
Students with F-1 visas are allowed to work part-time on campus only. A list of jobs for students can be found on the University's Student Financial Aid website.
Mail
If you do not know where you will be living when you arrive in Iowa City, you may have letters addressed in your name, c/o 1112 University Capitol Centre, The University of Iowa, Iowa City, Iowa 52242, USA. Immigration and Customs Enforcement requires you to change your address within 10 days of finding housing. Please do not ship packages to the IIEP.